OMB Super Circular document has been added to the www.itacchelp.org website!
The Informational Briefing on the OMB Super Circular and Potential Impact for DD Councils, contains information on the 5 topics that may be of interest to DD Councils. A list of resources is also included.
Sincerely,
ITACC Staff
Angela Castillo-Epps
Technical Assistance Specialist
202.506.5813 ext. 100
National Association of Councils on
Developmental Disabilities
1825 K Street NW Suite 600
Washington, DC 20006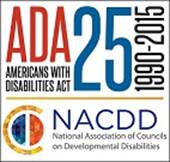 "We are strengthened by our diversity and empowered by our inclusiveness."
NACDD.org
ITACC HELP.org

Important Notice: This e-mail may contain confidential or priviledged information. If you are not the intended recipient, please notify the sender immediately and destroy this e-mail. Any unauthorized copying, disclosure or distributionof the material in this e-mail is strictly forbidden.